What's happening here??
I do some web and graphic design occasionally. I can make Wordpress themes and I understand typography. As you can tell by this very basic site, totally lacking of any recent portfolio items, I don't do this very often. Sometimes things happen, and your life implodes...

Either way, If you have a small project, and you'd like to talk to someone about it, get in touch. I would love to talk to you about it. Sometimes honesty is key. I'm cheap. So, if I'm available to do your project, you're going to save some money.

Incidentally, Look forward to a brand new page here real soon.

God Bless & DFTBA,
​Clint
Powered by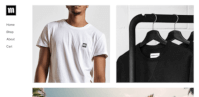 Create your own unique website with customizable templates.