Education and E-Learning

I do have a Masters Degree in Adult Learning and Distance Education
My studies in this field
focused on:
Courseware Development
Adapting Curriculum for Online Deployment
Instructional Methods
Administering E-Learning Academic Programs
In addition to my service as a Public Educator in Business and Computer Information Technology at SGASD, I am an
Online Facilitator Performance Learning Systems in the following courses:
Blended and Synchronous Learning
Purposeful Learning through the Multiple Intelligences
Merging Educational Goals and Multimedia Projects
---
What are your learning / education needs?

I would be happy to discuss any needs you might have for:
Consulting in E-learning, Education Technology, and Training and Curriculum development.
Part time / Adjunct instructor positions in Education, Technology, & Graphic Design.
Development & Deployment of Moodle-based Course Management systems.

SGMS

As I mentioned earlier, I am a public school teacher in BCIT at Spring Grove Middle School. I do a tremendous amount of work in that capacity in addition to the design work I do on the side. Here are some of the places you can find my education work:
Powered by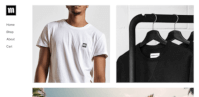 Create your own unique website with customizable templates.